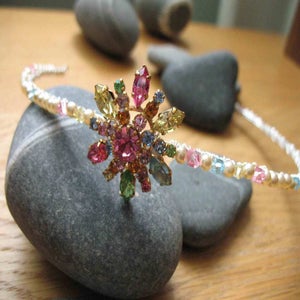 £

60.00 - On Sale
Ex display Headband with very little wear.
Original price £120
A lovely sweet pea coloured headpiece based around a real vintage brooch (circa 1960's) for that classic sparkle. Gorgeous girly colours! Headband is adjustable - you can bend it to fit.
Also could be worn as a choker if you add some ribbon to the headband loops.
Price includes lovely mini hatbox.