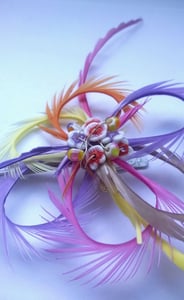 £

45.00
A larger (but not unwearable!) Frou Frou add a bit of pzazz to that outfit. Feathers hand-dyed by me in shades of pink, lilac, coffee, coral and lemon and set off at the centre with a cluster of my own hand-made glass beads.
The shape is a flower with three 'tails' flying out - total diameter approximately 17cm tail to tail with the central design being 10cm across. The design is worked onto a small hairslide 4cm and it sits flat to the head.
Suitable for all but very fine hair.